Fun and Games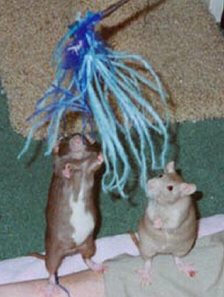 We have several

games planned for the weekend, such as pictionary, Rat-unko, password, hangman, and Bella's Ratasauras Egg hunt :-). All the games will have a rattie theme, and of course, rattie prizes! There will also be drawings and raffles.

Saturday, after dinner, we'll also have a

gift exchange. The gift needs to be under $15 and have a rat theme. It can be something rattie for the human or something nifty for their rat.

Sunday, some of the guests will go on a group outting to the Dallas zoo to see the infamous Naked Mole Rat :-) If you decide not to go on the outting, you can stay for the craft projects. There will be a couple of different ones to choose from.
SATURDAY

SUNDAY

Meet and greet,

games
lunch
shopping in the rat store
playing with the rats :-)
games
raffle
dinner
gift exchange
A game of Rat-unko
slumber party

Breakfast
games
raffle
lunch
zoo outing or...
stay and do craft projects
relaxing/shopping
playing with rats
raffle
one more game
saying goodbye :-(

Home ~ What to bring ~ Hotels ~ Food Fest
for more info, contact: